I suppose maybe it makes sense that once a person has a job in the amusement industry, they would have no reason to ever do anything else.  However, in a day and age when things are constantly changing it is an accomplishment worth celebrating when someone retires after thirty years with the same company.  Last week we had one such celebration at our company and it reminded me about all the other faces that have lived and breathed Chance Rides for essentially their entire adult life.
Obviously, our CEO was born into the business so he's never not known the amusement industry. In August he will officially celebrate his 48th anniversary with the company.  And while that might seem shocking and admiral, he is not the longest tenured employee of the company.  Two wonderfully knowledgeable gentlemen still serve Chance Rides since before Richard Chance came to work for his father Harold.  Last month the longest of these served his 52nd year of employment at Chance.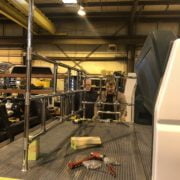 There is no question that these men hold valuable knowledge in their heads that continue to shape the way we skillfully create amusement rides, coasters and people movers.
It is true that we are always hiring new individuals for the company and our long tenured employees do their best to impart their wisdom onto the next generation.
But the will to love it has to come from inside.  We have just around 100 employees currently and of those 34 of them have been here for 20 years or longer.
Purchasing an amusement ride, coaster or people mover from Chance Rides comes with a lot of experience and expertise built in.
It has often been said that this is a family business not only because it owned by the Chance Family but because the employees have worked together so long that they've become family.
There are employees here that have literally grown up here.  From their first "real job" to what has become their career.  The people that work here truly dedicate themselves to the things they do.  These people care about the amusement rides that we put out into the world. These are the things that we hope you can experience when you enjoy the rides.  When someone compliments how smooth of a ride they get on Lightning Run at Kentucky Kingdom, we know that is because our welders took their work seriously when they blended the welds on the rail.
When someone marvels at the action of the Zipper, we know that everything was masterfully assembled according to the correct engineered drawings. 
And when our latest carousel is complimented for being to stunning we can point directly to the artists responsible for making that true.
This team of people produce works of art that bring joy to people all over the world.  There is a lot of pride in that.  The rides, roller coasters and people movers that go out into the world from Chance Rides are built by men and women that have honed their expertise in the process over many, many years.
https://www.chancerides.com/wp-content/uploads/2018/04/Dick_Sidecar.jpg
999
1371
chancerides
/wp-content/uploads/2016/05/cr_color-300x265.png
chancerides
2018-04-06 16:14:41
2018-05-03 22:20:49
Making Amusement Rides for Life