It is true that we are still weeks away from Christmas but the spring will be here before we know.  With the new amusement season beginning in the spring the Chance Rides team is ramping up to be ready for new deliveries.  Below you can join me on a photo walk through the factory to see what is coming together for early spring deliveries.
This photo shows you the bones of the Chance Rides Freestyle being readied for delivery to Six Flags Great Escape in Lake George, NY. You can see their announcement about their New Pandemonium here.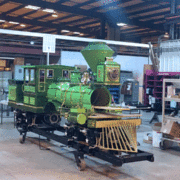 Work continues on perfecting the new technology involved in our state of the art Electric C.P. Huntington Locomotive. After returning from the 2017 IAAPA Expo we are preparing the locomotive to capture some more test data for the lithium-ion batteries.
In these photos you can see the beginning of the manufacturing process for the Chance Rides Tramstars.  It all begins from a cutaway chassis of the Ford E450.  The Chance Rides Tramstar and Sunliner II trams are the only people movers in the market that feature air-ride suspension, airover hydraulic brakes and serviceable from any Ford dealership. These will be going to a resort developer in Mexico called Groupo Vidanta.
North American Midway Entertainment sent their Zipper ride to our factory to be completely rebuilt.  It will return to the midway in 2018 in a like-new state.
I told Dana that her panda was upside down to get this chuckle. 🙂  Truth is our talented artists work from all angles to make sure that each figure is expertly painted with real-life detail.
Julie is working on a black bear for the same carousel.  He is going to have a beautifully colorful saddle for the the children to mount.
This lion is complete and I just had to share it because I think he is absolutely stunning.  And again, look at all of those life-like details.
All of these animals are going to the El Paso Zoo where they will be enjoying their new 36ft Carousel in the spring of 2018.
This carousel zebra is no less stunning but we've certainly stepped away from life-like.  This beautiful and strikingly colorful 28ft carousel will be traveling to Singapore.
Thank you for taking this tour around the factory with me.  We still have time to add more products for your spring delivery if you act fast!  Contact us at sales@chancerides.com.
https://www.chancerides.com/wp-content/uploads/2017/12/paintbooth.gif
540
720
chancerides
/wp-content/uploads/2016/05/cr_color-300x265.png
chancerides
2017-12-06 16:41:56
2018-05-03 22:20:49
What is Chance Rides working on now?